Argenta Windows
Window Cleaning, Gutter Cleaning, and Pressure Washing Services in Florida
888-292-7128
Best Window Cleaning Company in Florida
If you live anywhere in Florida and need windows, pressure washing or gutter cleaning services or gutter guard installation services, you can call Argenta Windows to do the job for you. We have multiple years of experience in cleaning windows and gutters so you can be sure that we will do a good job.
Experienced Staff
Our experienced staff will use special equipment to make your windows clean and streak-free.
Fast Service
Our experienced staff will come in and clean your windows quickly and efficiently so that you can get on with your day.
License & Insured
Our company is fully licensed & insured and we will give our 100% to make our customer satisfied.
Equipment
We have a variety of special equipment that do the job more quickly and efficiently.
Safety
We follow all the guidelines and safety measures during the whole process.
Experience
We have years of experience in this field and we did window cleaning, gutter cleaning, and pressure washing more than thousands of times.

Residential Window Cleaning
Do you have a home that's always looking clean, but you don't have the time to clean your windows yourself? There's no need to worry because Argenta Windows cleaning services can take care of everything for you. Our cleaners use the latest technology and equipment to get your windows looking their best in no time.

Commercial Window Cleaning
Commercial window cleaning is an important service that should be performed on a regular basis to keep your business looking its best. Not only will it make your visitors feel more at home, but it can also help reduce the risk of theft and vandalism.

Pressure washing is a popular residential cleaning method that uses a powerful stream of water to clean surfaces. The water pressure and the speed of the flow of water are key factors in power washing.
Gutter cleaning is an essential part of keeping your home's roof and gutters clean and in good condition. Gutter cleaning can help to prevent leaks, damage to the roof and gutters, and even potential health hazards. If you're looking for professional gutter cleaning services, call us right now.
Why Choose Professionals for Window Cleaning, Gutter Cleaning, and Pressure Washing?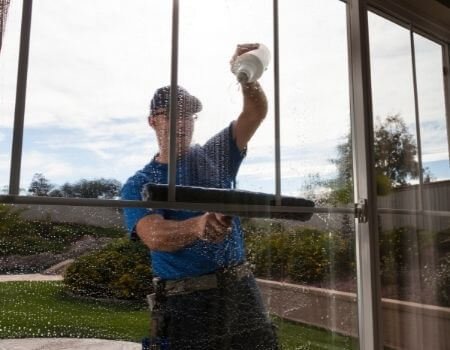 You can choose to hire us for your window cleaning, Gutter Cleaning, and Pressure Washing services because we understand that your home or building is a reflection of you. We also understand that you have many responsibilities, so you need to hear from a company that will deliver the best service at all times. We have been in the window cleaning industry for many years and this is why we are able to provide you with the best service. We have a team of highly qualified, experienced, and motivated window and gutter cleaners who will ensure that your building is left clean and safe at all times.
Window cleaning is a tedious and time-consuming task. It can also be dangerous, especially if you are not using the right equipment. That is why it is important to choose a professional window cleaning company that offers the best service at all times. Our staff will be able to clean your windows in a very efficient and professional manner. We will never compromise on quality when it comes to our services, so you can always count on us for the best service that you deserve.
We can proudly say that we provide the best Window Cleaning or Window Washing Services in Florida, Gutter Cleaning Services in Florida, Gutter guard installation, and Pressure Washing  Services in Florida.
Areas We Serve in Florida
Are you looking for a professional window cleaning, services in Florida? Or maybe you just need a quick price on any of the services. Whatever the case may be, getting an instant quote is the quickest and easiest way to get what you need. All you have to do is click the button down below and call us.
888-292-7128
Book an Appointment Today
Open Hours
Monday – Friday:  7am – 10pm EST
Saturday:  8am – 10pm EST
Sunday:  7 am – 9 pm EST