Best Gutter Cleaning Services in Florida - Local Gutter Cleaning Company
Professional Gutter cleaning services in Florida. Call us from anywhere in Florida.
Call Us Now
Welcome to Argenta Windows' Gutter Cleaning Service! As homeowners, property management companies, and commercial building owners in Florida know all too well, clogged gutters can cause a range of problems that can lead to costly repairs. That is why regular gutter cleaning is so essential – it helps to keep your home or business well-protected from potential water damage.
Our professional gutter cleaning service offers several distinct benefits over DIY options. Our cleaners use high-pressure water jets for a thorough clean on any size house or commercial building and are able to reach the highest parts of the roof without ladders or scaffolding. We also provide safety inspections to check for damage and will repair any gutters if necessary. Our cleaners use only the best tools and materials for an efficient job that leaves no mess behind.
Whether you need one-off cleaning or regular maintenance services, Argenta Windows' Gutter Cleaning Service has you covered. We are dedicated to providing our customers with the highest quality service at competitive prices, so contact us today and experience the difference!
Our company offers gutter cleaning services, window washing services, and pressure washing services in all of Florida whether it is South Florida or North Florida. You can check out all the service areas in which we serve by clicking this link.
Does it make sense to hire professional gutter cleaners or take gutter cleaning services? Highly Rated Gutter Cleaning Company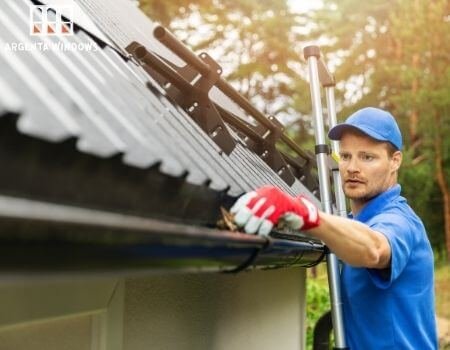 Gutter cleaning is an important part of home maintenance that should not be neglected. Gutters are used to collect and divert water away from the roof and foundation, helping keep homes safe from potential water damage. It's essential that they be regularly cleaned of debris to prevent clogs that can lead to roof damage or foundation issues. 
We recommend homeowners take care of their own gutter cleaning if possible, but understand that this may not always be feasible. In these cases, hiring a professional gutter cleaner or taking gutter cleaning services is the best way to ensure your gutters will stay clear of debris and function properly for years to come. Professional gutter cleaners have the necessary equipment and experience needed to safely clean all types of roofs and gutters with minimal disruption.
You can call us today at 888-292-7128 for professional gutter cleaning services in Florida. We also specialize in Window cleaning and pressure washing so if you have any requirements for these services in your house feel free to call us.
How often should gutters be cleaned in Florida? Best Gutter cleaning services in Florida
It is highly recommended to clean your gutters in Florida every six months. The heavy rains that occur during the year can cause gutters to fill up quickly. Cleaning gutters in detail will help to ensure that the rain gutters are doing their job of directing rainwater safely away from your home.
This will help to prevent overflow and potential damage to your roof, soffit, and fascia. If you are comfortable with heights, you can use a hose and remove any debris that has accumulated in the gutters and downspouts. If your roof is steep and you do not feel comfortable cleaning the gutters yourself, it is best to hire a professional who can do a great job safely.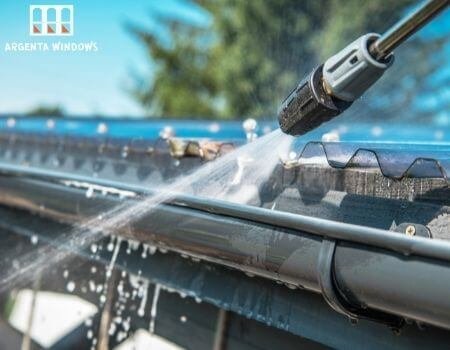 How do you maintain gutters?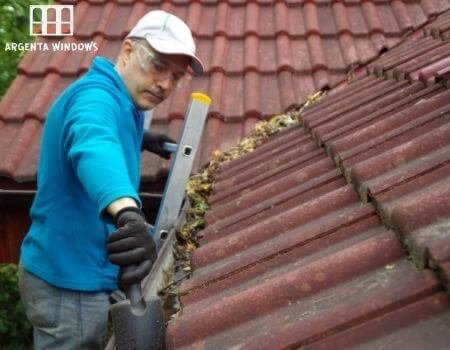 It is essential to take care of your gutters and keep them clean in order to maintain the good condition of your house all year round. Well-maintained gutters are crucial to keeping your dwelling dry and avoiding water damage. To preserve them properly, it is necessary to periodically clean them, as well as make sure they are securely affixed to the roof.
Be sure to take a look at your gutters and downspouts for signs of any clogged debris, like leaves, sticks, algae, and dirt – then get rid of it so that water can pass through your house without trouble. Also check out if there are any visible indications of rusting, corrosion, wear-and-tear, or damage including openings or splits; repair or change them when required.
If you need to inspect your gutters, you can either do it yourself or contact us. Our experts have years of experience in this field and know what to look for. If any damage or cracks are discovered, it is best to take care of them as soon as possible; otherwise, the repair costs may become very high. Contact us if you need help with this!
To check for adequate drainage, fill the gutters with water and check that it flows freely through the house.
Gutter cleaning – what does it involve?
The gutter cleaning process consists of the removal of debris such as leaves, algae, mold, dirt, etc, flushing the gutters to check whether water flowing without obstruction or not, and cleaning downspouts. 
When you call our gutter cleaning company in Florida, our experts will try to get back to you as soon as possible. First, they'll look at your gutters and analyze the entire condition, then they'll check the downspouts to make sure they're working without problems or blockages.
After that, they will look for any cracks or damages in your gutters and repair them if necessary or provide you with a quote for whatever needs to be done to fix it. We use only the safest and most advanced methods to clean your gutters and try to avoid any damage to your home's exterior during the entire cleaning process.
Once all the work is done then we will flush all the debris from the gutters down to your sewage system to protect your gutters or downspouts from getting clogged again.
What are the risks of not cleaning your gutters?
There are many benefits of clean gutters. A clean gutter not only looks good but also works well, protecting your home from damage by diverting rainwater away from your home. A clogged drain is very harmful to you and your family's health as well as to your home and can cause many problems in your home, such as:
– Water damage to your home roof and walls
– Increased humidity in the house
– Foundation damage and leaks
– Pest infestations like rodents and insects
– A buildup of debris that can cause structural issues
– Rust and corrosion of gutters and downspouts
– Structural issues caused by the build-up of debris
– Overflowing water leading to basement flooding
– Soil erosion near the foundation
– Deterioration and eventual collapse of gutters
– Growth of mold and mildew
– Fire hazard from the accumulation of dry leaves and debris
If you live in an area with heavy or regular rainfall, then it will be essential for you to have your gutters cleaned regularly or periodically. Taking care of the health of your gutters will not only improve the look of your home but also protect it from any costly damage caused by rainwater or other types of blockages.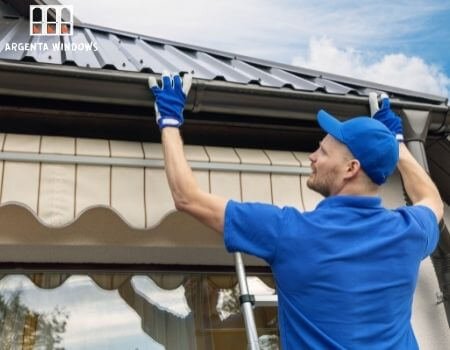 Gutter Guard Installation Service – Professional gutter cleaning company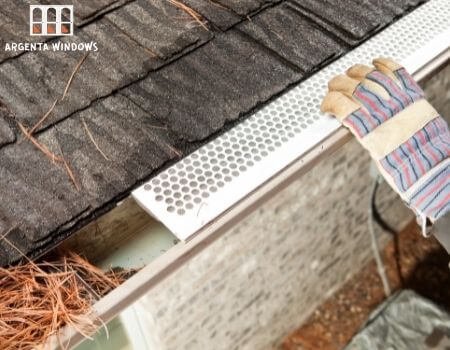 Apart from gutter and downspout cleaning we also offer Gutter Guard Installation services in Florida. This service protects your home's gutter from debris such as leaves, mold, and other external materials that could potentially fall down and clog them.
Gutter guard installation reduced the need for frequent gutter cleaning and keeps it clean and free of debris and also prevents damage to your home's roof or walls from any debris that may be thrown up by the gutters.
If you are looking for gutter guard installation services in Florida, please don't hesitate to contact us at 888-292-7128 for more information.
For Gutter Repair, Gutter Installation, & Cleaning (remove debris), Contact Our Professionals
If you're in need of gutter repair, installation, or cleaning, our professionals are here to help. We have a wide range of experience and expertise when it comes to gutters, and we're always happy to share our knowledge with our customers.
Contact us today to schedule a consultation or estimate, and we'll be happy to get started on your project. For your peace of mind after completing the work our technician will clean up before leaving.
Frequently Asked Questions
How much do gutter cleaning services cost in Florida?
Gutter cleaning is a necessary task for homeowners in Florida to keep their homes looking great and in tip-top shape. While it can be time-consuming and messy work, neglecting regular gutter cleanings can lead to costly roof repairs or water damage. Fortunately, there are professional gutter cleaning services available throughout the Sunshine State that can take care of this chore for you. 
The cost of gutter cleaning services varies depending on the size of your home, the number of stories, and whether there is other debris like tree branches or leaves clogging up your gutters. Typically, a one-story house with 200 linear feet will cost about $100 for a basic gutter cleanout service.
Call us at 888-292-7128 to get an instant quote.
Is it worth getting gutters cleaned?
Gutters are designed to help move the rainwater away from the foundation of homes. This helps prevent water damage, which can be very costly to repair if left unchecked. Keeping gutters free of leaves and debris allows them to work optimally, ensuring that water flows away properly and does not back up into the roof or walls of your home.
Additionally, clogged gutters can attract pests such as mosquitoes and rodents so removing any buildup will help keep these critters at bay and make your yard a more pleasant place to spend time in during the summer months.
We are one of the most reputable Gutter Cleaning Company in Florida. We provide pressure washing, windows, and gutter cleaning services. Contact us today to schedule a free consultation!
Can I clean the gutters myself?
Can you clean your own gutters yourself or should you hire a professional?
Generally speaking, it's best to be safe and have a professional come and clean your gutters. Gutter cleaning can be dangerous work due to ladders, heights, and debris buildup. Professionals are trained in safety protocols and are well-equipped with the right tools for the job. They also know how often your gutters need cleaning (typically twice a year).
But if you're feeling up for the challenge—or just want to save some money—it is possible for you to take on gutter cleaning yourself.
Do gutter guards need maintenance?
Yes, even with gutter guards, you need to periodically check for debris and clean them. Leaves, branches, and other debris can build up on the gutter guards over time and can eventually block the water flow. Regular maintenance will ensure that your gutter system continues to function properly.
What time of year is best for gutter cleaning in Florida?
In Florida, the best time to clean out your gutters is during the dry season (usually from October through May). During this period, there are typically fewer storms and less rainfall which means that any debris left in your gutters won't get washed away before it has been cleared out properly.
However, if you notice that there is a buildup of debris during the summer months, you should still have them cleaned as soon as possible to prevent any potential water damage.
Book an Appointment Today
Open Hours
Monday – Friday:
7am – 10pm EST
Saturday:
8am – 10pm EST
Sunday:
7 am – 9 pm EST