Best Local Window Cleaning Services in Florida
Professional window cleaning services in Florida. We provide window cleaning or washing services in all areas of Florida.
Call Us Now
Window cleaning is a necessary chore, but it's not always easy to find a reputable and reliable service. If you're looking for the best window cleaning services in Florida, then call Argenta Windows today without any wait. 
We have a team of professional window cleaners that have years of experience in window & gutter cleaning. We provide services to all types of residential or commercial building. Other than window washing services we also provide gutter cleaning, gutter guard installation, and pressure washing or power washing services.
Argenta Windows has been providing quality services to homeowners and businesses in the Florida area. We offer both residential and commercial window cleaning services, so we can meet the needs of everyone in the community.
Our team of experienced and qualified experts uses the latest technologies and professional equipment to get your windows clean, shiny, and streak-free, whether they're on the first or twentieth floor. We will take care of your every window cleaning need.
Schedule your appointment with us or call us today to get a free quote or estimate. Our customer service can answer all of your queries.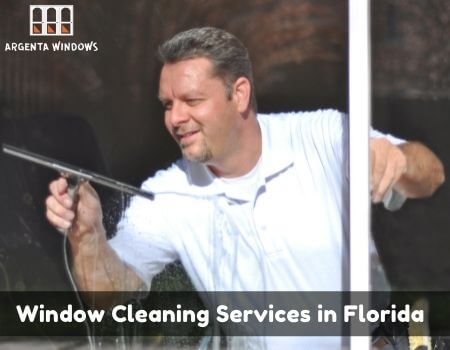 Commercial & Residential Window Cleaning Services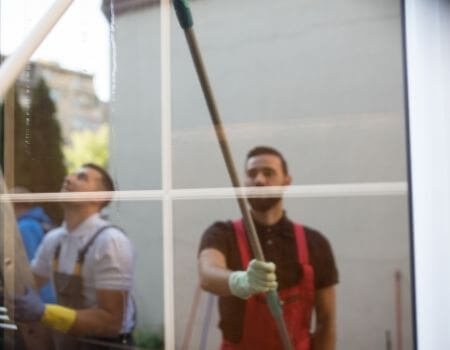 Argenta Windows provides services for both commercial and residential buildings. We have a team of experienced and skilled professionals who use the latest technologies and equipment to clean windows quickly and effectively.
Our experts have years of experience in cleaning windows and are skilled at removing all types of dirt, dust, and debris. We also offer a variety of window cleaning services, such as blinds, curtains, sills, and awnings.
Cleaning windows is often seen as a necessary evil. It has to be done, but it's never anyone's favorite chore. Windows get dirty for a variety of reasons, but no matter the cause, they need to be cleaned regularly in order to maintain their appearance and function.
Interior window cleaning should be done at least once a year, while exterior window cleaning should be done at least twice a year.
If you hire professional window washers that can take care of this task for you your work becomes a lot easier and you will have a lot of free time on your hand.
We take care of both the inside and outside of your windows, and also clean window frames and screens. We use specialized equipment and techniques to get the job done quickly and efficiently.
Our main goal is to satisfy our customers by giving them the results they wanted. We will guarantee that after seeing our results you will get 100% satisfied and will want to hire us again for any of your future window washing or cleaning service.
Benefits of Hiring Professional Window Cleaners – Professional Window Cleaning Company
No matter if you are calling us to clean your home and business windows interior and exterior there are many hard-to-reach areas that only a professionally trained technician can able to clean. Our technicians are ready to clean any type of window surface or stain on windows and make them look clean again.
Taking services to clean your windows offers many benefits for both residential and commercial buildings. Some of these benefits include: 
A clean and healthy environment.

Improved appearance of the building.

Reduced maintenance costs.

Enhanced property value.

Improved health and safety of building occupants.

Fully Insured and Licensed.
As a result of these benefits, more people are choosing to hire professional cleaners. The main reason why they choose to use window washing services is that it helps them save time and money.
Your residential glass will be sparkling clean without you having to climb a ladder or scale a roof. Make your life easier by taking our cleaning services today.
Want your windows to sparkle again? Call us today at – 888-292-7128.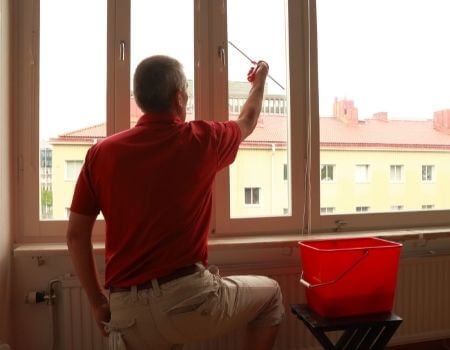 Why cleaning your windows is important?
Washing or cleaning your windows is a basic but important part of home maintenance. Windows allow natural light into the home and provide a view outdoors, but they also can let in dirt, dust, and insects. Clean windows make a home brighter and more cheerful, and they can help keep the interior of the home cleaner. Cleaning window is also an important part of maintaining window hardware; streaks and build-up on windows can cause windows to stick or not open properly.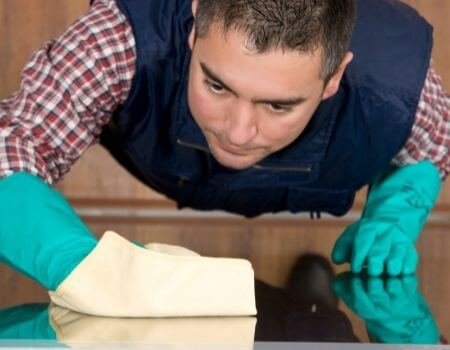 What are the reasons why you need window cleaning services? Get Residential & Commercial window cleaning or washing services.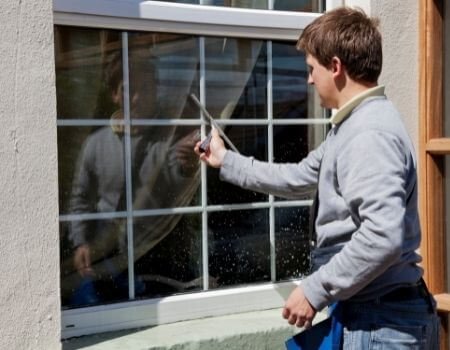 Window cleaning is one of those services that is often overlooked but is actually very important. Windows are constantly exposed to the elements, and they can get dirty very quickly. If your windows are not clean, then your building will not be looking its best. Additionally, if your windows are not clean, then you could be facing a number of health risks.
It is a necessary service for businesses of all sizes. It is important to keep your windows clean in order to improve the appearance of your building and protect your health. A professional window cleaning service can ensure that your windows are always clean and in good condition.
You can see the clear difference in your windows after our window cleaning service as we will turn your dirty windows into crystal-clean ones. Doesn't matter in which part of Florida you live whether it is south Florida or North Florida you can give us a call and we will be at your doorstep in no time.
If it is hard for you to remember to clean your windows on a regular basis then taking a window cleaning schedule can help you in this. It is very simple and affordable if you want your windows to look clean all year round.
If you are looking for a trustworthy and affordable window cleaning company in Florida? Look no further than our team at Argenta Windows as we take our cleaning jobs very seriously and make your windows shine like new again.
Frequently Asked Questions
Is there a difference between window washing and window cleaning?
Window washing and window cleaning are two different services that can be performed on windows. Window washing is the process of using a detergent and water to clean the windows, while window cleaning is the use of a specific cleaner to remove dirt, grime, and streaks from the windows.
Window washing is often done by hand, while window cleaning can be done by hand or with a machine.
Window washing is most commonly done outdoors, such as at beach shores or parks, while window cleaning is often done indoors.
Does rain affect clean windows?
Window cleaning is a popular home chore, but does rain affect how clean your windows get? It's an interesting question that doesn't have a definitive answer. Some people say that rain can actually make window cleaning harder because the dirt and dust will stick to the wet windows. Others say that the rain helps to rinse away the dirt and makes the window cleaning process easier.
The truth is likely somewhere in between – rain will definitely make window cleaning more difficult, but it's not impossible to get them clean. In order to get your windows as clean as possible, it's important to use a good quality window cleaner and a soft cloth or sponge. You may also want to try using a squeegee to help remove the water and dirt from your windows.
How Frequent You Should Hire Professional Services For Commercial Window Cleaning In Florida?
Window cleaning is one of those tasks that many people put off because they think it is a daunting and time-consuming job. While it is true that window cleaning can be a bit of a challenge, it is nothing that cannot be tackled with the help of a professional service. If you are located in Florida, then you may be wondering how often you should hire professional services for commercial window cleaning. The answer to this question depends on a few factors, including the size and type of your business, as well as the number and location of windows in your building.
Which season is best for window cleaning?
A super clean and shining window is important for any building, but it can be especially challenging for high-rise buildings. The height and size of the building mean that there are more windows to clean, and the distance from the ground can make it difficult to reach all of them. Many people might think that the best time of year to clean windows is in the summer when the weather is nice and sunny, but this isn't always the case. In fact, window cleaning in the summer can be more difficult because of the heat and glare. The best time of year to clean windows is in the fall or winter when the weather is cooler and there is less glare.
Book an Appointment Today
Open Hours
Monday – Friday:
7am – 10pm EST
Saturday:
8am – 10pm EST
Sunday:
7 am – 9 pm EST