Ocala, Florida is a city located in the north-central part of the state. It is about an hour's drive from both Tampa and Orlando. The city is known for its horse country. There are several horse farms in the area, as well as a large number of equestrian events held throughout the year. Ocala also has a rich history, dating back to the Seminole Wars. The city is home to several museums and historical sites, including the Ocala National Forest and Fort King Historic Site.
Need help with your residential or commercial pressure washing, gutter cleaning, or window cleaning? Give us a call if you are in Ocala, FL 34470, and our superb team will be thrilled to give you the services you need to keep your windows looking immaculate. We provide gutter and window cleaning services, gutter guard installation, and pressure washing services, so you can have all of your needs met under one roof.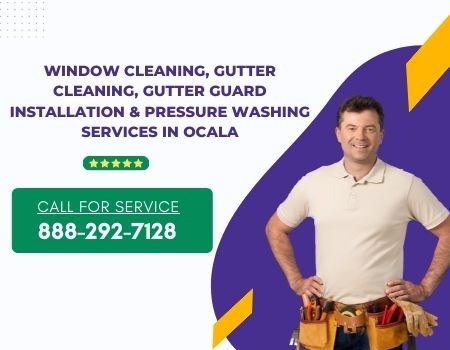 Window Cleaning Services in Ocala, FL 34470
Window washing is a laborious job that's made trickier by the need to use appropriate equipment and supplies to wash the glass. Window washing services in Ocala, FL 34470 can help you with your windows as efficiently as possible so you can be more productive with other tasks.
We have modern-day tools and techniques to thoroughly clean your windows quickly and thoroughly, so you will have no trouble whatsoever. We have the skills and expertise to get the job done right the first time.
If you're in Ocala, FL and are trying to find a window cleaning service with many years of expertise, look no further than us. Our customer service experts are always available to provide a free estimate for our services.
Gutter Cleaning Services in Ocala, FL 34470
Gutter cleaning is very important, especially for houses. They keep rain gutters free of debris that may build up and prevent water from flowing, enabling it to flow freely. If you want gutter cleaning services in Ocala, go with Argenta Windows. Our comprehensive gutter cleaning service will leave your gutters clean and free of debris.
Pressure Washing services in Ocala, FL 34470
If you require a professional pressure washing service in Ocala, FL 34470, consider hiring our professionals. Our trained and qualified technicians can restore your property to its past condition with our top-notch pressure washing equipment. We provide a comprehensive selection of services that are designed to meet your specific needs, so you'll be confident in our ability to take care of your property. Contact us today to know more about our services or schedule a consultation to see how we can help you.
Book an Appointment Today
Open Hours
Monday – Friday:
7am – 10pm EST
Saturday:
8am – 10pm EST
Sunday:
7 am – 9 pm EST